Worldwide Rosary to Pray for an End to the Pandemic – May 17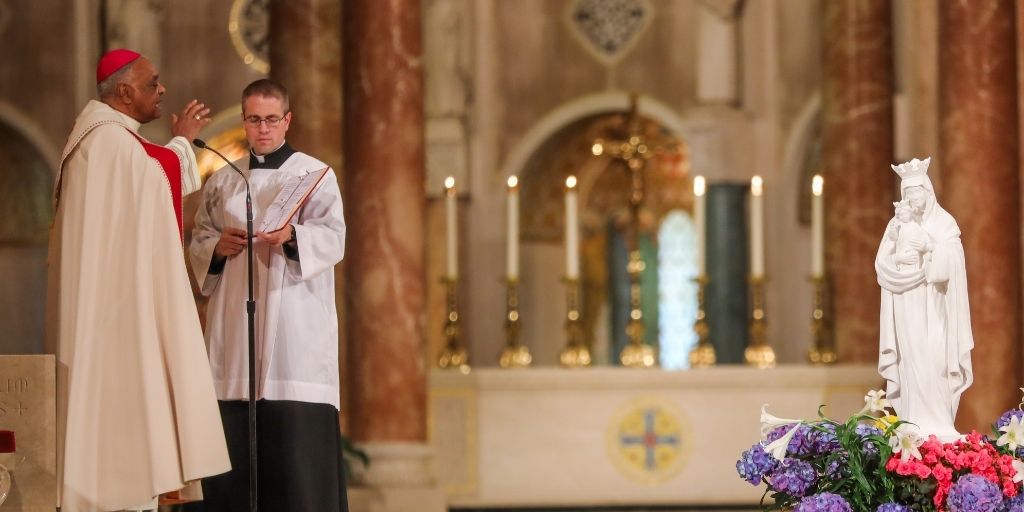 The Basilica of the National Shrine of the Immaculate Conception has been chosen by the Holy See to lead the worldwide recitation of the Rosary on Monday, May 17, at 12 noon ET/6pm Rome time, in response to Pope Francis' call for a "marathon" of prayer during the month of May "to ask for the end of the pandemic."    Cardinal Wilton Gregory, Archbishop of Washington and Chairman of the National Shrine Board of Trustees, will prayerfully lead the Joyful Mysteries of the Rosary from the Basilica's Great Upper Church.
For more information on how to attend or join by live-stream, click here!
Annual Golf Outing For Charity – June 4th!
All are welcome to join us for our Annual Golf Outing For Charity, which will be held at Kimberton Golf Club on Friday, June 4th.  We have a great day planned with lots of food, drink and up to $25,000 in prizes!  Bring your friends, your spouse and family members!  This is our largest fundraiser of the year!  All proceeds go towards our charitable activities in the local community.
To learn more or to sign-up, click here!
2021 Chester County March for Life – June 5th
The 2021 Chester County March for Life will be held on Saturday, June 5th in West Chester.  Catholic and Protestant services will start the day, followed by a march and prayers at Planned Parenthood, and then featured presentations by speakers at the Historic Courthouse.   Click here for details!
Adopt-a-Township-Road Program 2021
As part of the township's Adopt-a-Township-Road program, our Council maintains the trail in front of St Elizabeth Church. The trail runs south from the front entrance of the church, to the covered bridge, and north from the front entrance to the trail marker at the end of the church property.  We are looking for volunteers to walk and clean the trail once during the months of June, August and October.  Everything you need is provided by the township.
To learn more or to sign-up, please click here! 
Lenten Fish Dinner
March 26th - Our tradition continues!  While we couldn't dine together this year due to COVID-19, we offered our home-made Lenten dinners using a drive-thru approach to safely deliver meals to Parishioners.  We served over 200 meals!  We had a great turn-out of Brothers to help out, and help from the Youth Group as well.  Thank you to everyone who helped to make this event a success!
For pictures click here.
Red Cross Blood Drive
March 20 - Thank you to everyone who turned out to donate blood to the Red Cross.  We held the drive in the St Elizabeth Social Hall.  All available slots were taken, and we were able to provide almost 60 units of blood.
We hope to do another drive in November.  Check back later for updates!
Prayer for Protection in Time of Pandemic
The Knights of Columbus has published the prayer said by Pope Francis and Archbishop Lori online, calling on members and Catholics to say the prayer over nine days as a novena beginning Sunday. It especially prays "for those who have fallen ill, for those who are vulnerable and for those who have died."  It adds: "Intercede also for those charged with protecting the health and safety of others and for those who are tending to the sick and seeking a cure."
Click here to view and print the prayer.
Taking Care Of Those In Need
We are all being impacted by the COVID-19 crisis, but some of us are struggling more than others.    Our Council is committed to providing assistance to those in need.  Charity is at the heart of our work and our faith.  If you or someone you know in our Council or community are in need of assistance, contact us and let us know.  Learn more by clicking here.
FOCUS Ministry – Sarah Grubb Support
FOCUS (focus.org) is a Catholic apostate that aims to share the hope and joy of the gospel with college students across the United States.  Sarah Grubb was a parishioner before going to college.  She has graduated, and is now has a ministry with FOCUS at Ole Miss.  She is asking for financial assistance, and our Council has agreed to support her in this effort.  If you are interested in helping out, click here to make a tax deductible donation by credit or debit card.  You can find her Spring 2020 update by clicking here.
Message From The Grand Knight
The Knights of Columbus was founded in 1882 by the Venerable Servant of God, Father Michael J. McGivney in St Mary's Church in New Haven, CT. If canonized, Father McGivney would be the first American born priest to become a Saint.
To learn more information about Fr. McGivney, visit the website dedicated to his Life and Legacy at www.fathermcgivney.org
Explore our site!  If you are interested in learning more about becoming a member, please click here and we will be in touch with you shortly!